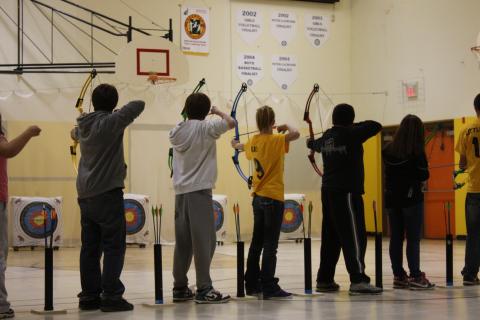 Changing Lives One Arrow At A Time!
It started as a simple idea to teach kids the basics of archery as a part of school curriculum. But it has grown into so much more.
The National Archery in the Schools Program (NASP) has the ability to:
Affect school attendance
Increase self esteem
Increase physical activity
Translate into subject matter
Appeal to all students
Become an after school activity
Truly change lives!
National Archery in the Schools Program is designed to teach archery to grades 4 through 12. Core content of the program covers archery history, safety, technique, equipment, mental concentration, core strengthening physical fitness and self-improvement. Before starting the NASP program, teachers undergo an 8-hour National Archery in the Schools Program Basic Archery Instructor Training to become certified.
A major part of the success of this international program is the equipment.
Kids can't outgrow it - because there is no specific draw length requirement.
It's simple to buy - no need to measure and fit for draw length.
It's easy to shoot - because the draw length is always right, the beginning archer won't develop bad habits caused by an ill-fitting bow.
Built to last - durable and tough, these bows can take the punishment that multiple shooters can dish out.
Regina Public Schools teachers with NASP certification can borrow kits from the Outdoor Education department. If interested please contact Wayne Tranberg at 306-523-3153 or wayne.tranberg@rbe.sk.ca
Check out the NASP website for more information.
Contact the Saskatchewan Wildlife Federation for upcoming NASP Certification Training